"Raketa" produces the largest clockwork in the world!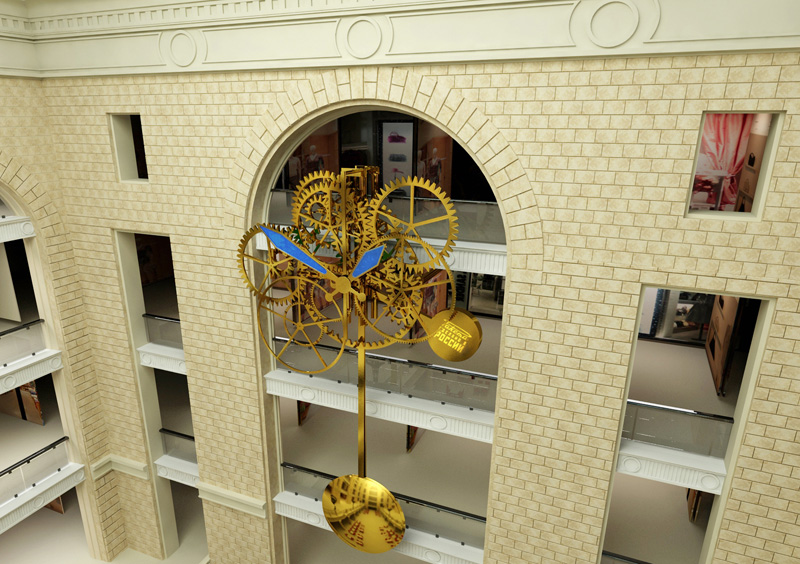 The oldest factory in Russia, Petrodvorets Watch Factory «Raketa», founded by Peter the Great in 1721, producing watches under the brand «Raketa» in honor of Yuri Gagarin since 1961 has become an unusual order to produce a monumental clocks for "Central Detsky Magazin" on the Lubyanka square, in front of the FSB (KGB) building.
This gigantic " Raketa" will join the top 5 biggest mechanical clocks in the world, such as Big Ben, the Kremlin clock, Prague and Ganzhou. The construction is scheduled for December 2014. The movement itself will be the biggest in the world. Its size 6 by 7,5 meters with a 13 meters pendelum. The total weight of the movement will be 5 tons and will be made ​​of aluminum, steel, copper and brass. There are no working clocks in the world with the gears of that size, up to 4 meters diameter. This clock is to become on of the main attractions to tourists in Moscow.Jacques von Polier, creative director of the Petrodvorets Watch Factory «Raketa», said: «For us it is a very important order and a very demanding work. We are really glad that «Hals-Development» has applied to our historical factory! Our entire team is proud of this project. We hope very much  that this watch go down into history. «
In 2009, the Petrodvorets Watch Factory «Raketa» entered the stage of reorganization, under the leadership of Russian and Swiss experts. Today, the Petrodvorets Watch Factory is located in a historic building in Peterhof. This is one of the world's rare factories producing their own watch movements from A to Z, including spiral and balance. Natalia Vodianova, Vic Wilde and Alena Zavarzina (Olympic champions of Sochi 2014), Prince Rostislav Romanov, and many others joined the team Petrodvorets Watch Factory. In 2014 the factory launched its new mouvement «Raketa Avtomat,» one of the most reliable mechanisms in the world.

---