Elena Vashchenko: «It is necessary to live and to work with pleasure. Only in this case it is possible to take success for granted»
Navigator for jewelry trade
Rubric: INTERVIEW
Very glamorous, at times the scandalous woman. Demanding, sometimes rigid, but always the fair-minded head. Easy conversation partner, with fine sense of humour. Optimistical and very kind person. The economist by education. The artist by mentality. The fan and the judge of all beautiful in life. It is Elena Vashchenko, the owner of popular jewelry salons in Slavyansk-On-Kuban city.
Your stores are not possible to get wrong with any others. Frescos, stucco molding, luxury furniture. Decorated in Baroque style, they, it is possible to say, set at defiance to the general minimization …
As the design of interiors was developed by me own, first of all it reflects my relation to the around world. I will not conceal: - I love all beautiful. Clothes, hairstyles, furniture, thoughts, feelings, behavior... I Love furs, brilliants. Beautiful people. Also I believe that the person, getting in beautiful conditions, opens his best internal qualities easier. Not to mention that (in particular, ornaments) it is more pleasant to choose and buy beautiful things in corresponding atmosphere.
As to the interior in Baroque style, from my point of view, it corresponds the image of the goods, presented in it optimally. Baroque is a palace style. A symbol of luxury, shine, wealth. As well as jewels. No matter what we spoke about availability of jewellery, it remains in consciousness of people as a prosperity symbol, and each new ornament – event for ever. Especially if to consider an important recent price hike of gold and brilliants.
I will separately underline: frescos on walls is not a cheap fake. These are original works of authorship of the artist who in due time painted the Saint-Voskresenskiy church in Timashevskiy district of Krasnodar territory. The Italian chandeliers lights the room. The furniture also is written out from abroad.
So if to generalize the aforesaid I am an adherent of effective decoration - and it is not so important what exactly: an interior or a personality.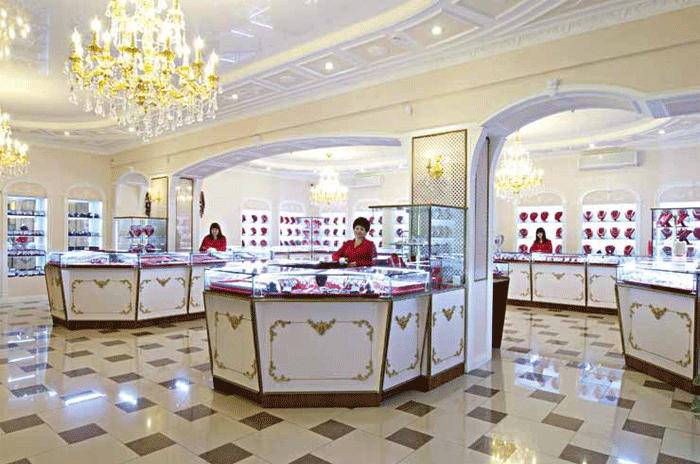 So, the internal design of your salons is out of competition, and assortment?
In comparison with stores of our city, assortment is out of competition too. And with quantity of positions, and with quality. Start with that the assortment is extremely extensive. We represent both inexpensive mass products and complete sets which cost more than one million. There are diamond collections, pearls and semi precious stones which are popular nowadays. Always there is everything that is in demand; - it is watched by the directors of stores. They communicate with buyers every day and exactly know what is necessary for the buyer (by the way: I also quite often rise for a counter - to have a keen sense of the pulse).
ADDITIONS TO THE PORTRAIT
Elena Vashchenko. The owner of two jewelry salons in Slavyansk-on-Kuban city.
The first store was opened seven years ago in SC "Venera" (the building of the shopping center is located in the central trading part of the city, - the property of the businessman).
The second is in SC "LIDER" (it is 4 years), on the crossing of the main transport lines of the region.
The interior of salons is sustained in a single style - baroque.
Assortment is jewelry from gold (from mass to exclusive), products on religious theme, souvenirs and interior ornaments.
Absolute majority of models are from gold (the second our differential sign). We do not sell cheap silver chains / crosses - it is our principal position. It remains invariable throughout all working time. As a result people perfectly know, where to buy gold, and we have no problems with buyers.
And, the last, than we essentially differ from competitors (if to speak about assortment), is quality of the goods. As the guarantee there are names of our partners-manufacturers. They are only the large reliable companies. In particular, "Topaz", "Moonlight", "Alkor", «Master the Brilliant», «Prima exclusive», "Platinum", "Nika", «the House of Kabarovskie», "Estet", "Onyx". It is necessary to say, with "Onyx" we are connected with not just long partner, but exclusive relations. At start of our cooperation "the Onyx" management has promised to work only with our shop in the city and it keeps a word.
Times when buyers were interested in «simple jewellery», passed. Today the products of small manufacturers no-name are not quoted. Both clients became more competent, and television "advertising" of forged jeweler production "has helped". Well readable hallmark on products; printed, instead of handwritten labels; a reliable clip; a various regularly updated lineup. All this is the most important components of successful work of a jewelry store.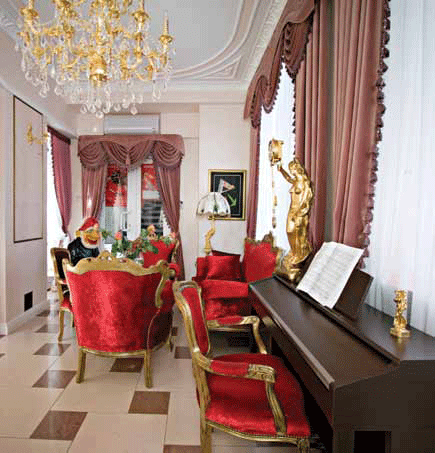 As I understood from responses of buyers, your shops still are famous with a non-standard set of free additional services...
Additional services are, from my point of view, an obligatory component of the store work. Certainly, in that case if the owner wants to have extensive constant clientele. Why? We will draw a parallel with other enterprises of sphere of services. For example, with gasoline stations. On what station will you come? I am, for example, a regular customer of the gasoline station, where it is clean in all premises, there are a fine service, constantly working cafe, tasty coffee... It is pleasant for me to be there; therefore I have chosen the station once and for all. And gasoline - it is the same everywhere if truth be told. In a case with jewelry store all is in the same way. Buyers choose a store not only with assortment. But also with a degree of service, and with quantity of free bonuses which offer them.
Therefore, our service is at the highest level. In the trading floors the «jeweler devices» are established which are certainly free. And ultrasound cleaning of ornaments - every visitor can use it, independently where the ornament has been bought in our store or not. The devices defining hallmark of gold. Not so long ago they were advertised as a novelty – we use them for a year. The detector of brilliants, phianites and semi precious stones. It is possible to check up any ornament - including not our products. An electronic measurer of a finger is for exact definition of the size. Not to mention credits for purchase, plastic cards, gift certificates.
 People speak about an individual approach to charge of discounts, work with clients... Tell, how you realize it in practice, having a constant stream of buyers?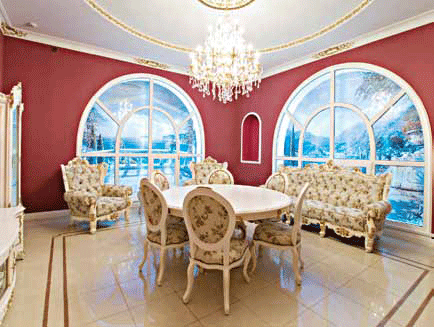 It connects with the relation to buyers. As I said, I am absolutely convinced that the kind relation, care and sincere attention are not less important, than the extensive assortment. I can make examples.
Among our constant customers there is a surprising couple: he is near 80, she is slightly younger. As reverently and gently they care about each other! And every year by all means he presents an ornament to the lady of his heart as a gift. Certainly, we can't refuse to ourselves to participate in this gift - and give an individual discount besides the standard.
Here is one more example - the elderly woman chooses a gift for the granddaughter. All her cash is -5 thousand roubles, saved from pensions. And the pleasant ring taking into account all possible discounts costs 5,5 thousand. We help the elderly person with pleasure, shutting eyes to the missing sum. The granddaughter receives a gift, the grandmother is happy. And it not single cases in our practice.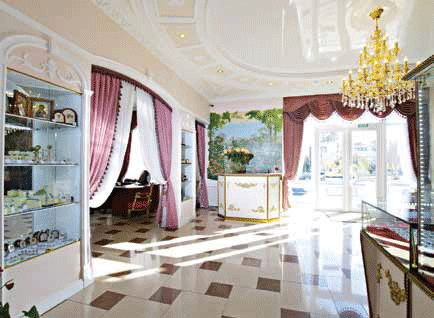 In all shops there are actions for birthday men - discounts in birthday or under the scheme «day before - day after». We have action «Birthday man of month» for many years. It is, from my point of view, an optimum variant. It is true that, few people will be going to run in stores in own birthday for ornaments. The day before and after is problematic too. But within a month it is quite possible to choose time for shopping. And the celebratory mood still remains in force.
All year long we have the bar counter. The Buyers-men who have crossed a threshold of our shop, at once we invite in a bar: after good cognac the time spent in jewelry salon, doesn't last so slowly. And the mood raises at once, and the valiant daring wakes up - it would be desirable to give a worthy gift to the lady of the heart.
We like to take in visitors on holidays very much. At the enter we will organize a buffet, we offer snack and drinks to all visitors. It is necessary to say, good alcohol is perfectly combined with jewelry and promotes growth of sales.
What else you do to attract visitors? If to analyse statistics of sales, the number of regular customers constantly grows.
There is a comfortable, cozy, tasty atmosphere in our store. Pleasant music sounds: classical or instrumental - optimum for presentation of jewels. We use aroma-marketing possibilities - visitors are met with smells of vanilla, chocolate, coffee... In a relaxation room it is possible to have a rest with a cup of good coffee, slowly to look through collections, to play music (many our clients have a music education, for them there is an electronic piano Yamaha, notes).
The employees deserve the specific mention. Higher education, pleasant appearance, competent speech, ability of self-developing and self-improving are obligatory qualities of directors and sellers of stores. I essentially don't make trainings for the personnel. It is convinced: there is such concept, as talent, ability to work with people. If the owner of this talent has also brains, he can read the special literature (I supply all the employees with it - we have own library), to realize and apply the read in practical way. It is very pleasant to make purchases with a help of such light positive person (exactly such people work with me).
The conversation is held by Olga ZARZHETSKAYA
Contacts:
Jewelry salon "Venera"
353567, Krasnodar territory, Slavyansk-on-Kuban, Dzerzhinskiy Street, 263
Ph.: 8(86146) 2-19-48