Kristall Production Corp Holding Eighth Polished Stones Tender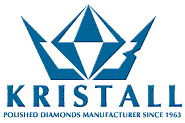 Kristall Production Corporation is planning to hold its eighth tender this year of polished stones mostly from 2 carats and up.
The firm's Tel Aviv office will be displaying the goods from August 31 to September 4.
Meanwhile the diamonds will be shown in the Hong Kong office from September 11 to 18.
Companies wishing to participate should contact Kristall by August 29 for the Tel Aviv tender, and by September 10 for the Hong Kong sale.
The list of goods to be offered for sale will be available on August 18.
Bids for the diamonds must be made on the official Buying Sheet, signed by the participant or his authorized representative and be passed in a sealed envelope directly to the branch office or sent to Alexander Chikov, the firm's Chief Tender Co-ordinator.
The date of the opening of envelopes with tender applications is set for September 19.
The highest bid wins. In the event of a tie, the tender organizer will contact the parties involved and will suggest possible methods of resolution, the firm said, adding that further details are available on its website.
IDEX
---