Articles
Back to list >>>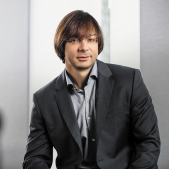 MIKHAIL DYAGILEV, Director General of JSC «Krastsvetmet», «Only the Most Effective and Capable to Change Themselves Will Stay in the Market»
JSC «Krastsvetmet» is one of those rare companies that do not need to be introduced. Being the largest in Russia precious metals refining plant, it also takes the lead among Russian jewellery manufacturers. Nowadays it is impossible to imagine the range of goods in any of the jewellery stores from Kaliningrad to Vladivostok without Krastsvetmet chains; and Krasnoyarsk jewellery pleases the customers with its high quality and the variety of choice. 
In 2014 the jewellery manufacture of the plant celebrates its twentieth anniversary.
Mikhail Vladimirovich DYAGILEV, Director General of JSC "Krastsvetmet", tells the "Navigator for Jewellery Trade" magazine about the success, achieved in jewellery business over the past two decades, about strategically important changes in manufacturing and merchandising, as well as about the company's future plans.